About our centre
Welcome to the Greencross Vets Ocean Reef Hydrotherapy Centre located at our Greencross Vets Ocean Reef clinic in Perth.
We offer hydrotherapy-based rehabilitation to patients experiencing discomfort or limitations following surgery, injury or disease.
Our facility has been operating since 2000 and we are the only centre in Western Australia that is fully equipped with both a heated swimming pool and dedicated underwater treadmill.
We pride ourselves in providing the highest level of care to our patients and their pet parents. Our hydrotherapists will create a customised exercise plan for your pet, which takes into account your goals, referring vet history and your pet's individual circumstances.
Benefits of Hydrotherapy:
Improved quality of life
Increased cardiovascular fitness
Improved mobility and proprioception
Improved response to pain and inflammation
Muscle strengthening and development
Increased confidence in your pet
Conditions treated include:
Palliative conditions such as cancer*
Degenerative diseases
Osteoarthritis & degenerative joint disease
Congenital conditions such as hip & elbow dysplasia
Spinal conditions such as intervertebral disc disease
Neurological conditions*
Soft tissue injuries
Recovery post surgery*
Geriatric conditions
* Patients undergoing chemotherapy are not permitted to undertake hydrotherapy for public safety reasons.
* Neurological conditions may be referred onwards for more specialised care.
* Patients can only undergo hydrotherapy once their stitches have been removed, to reduce the risk of contamination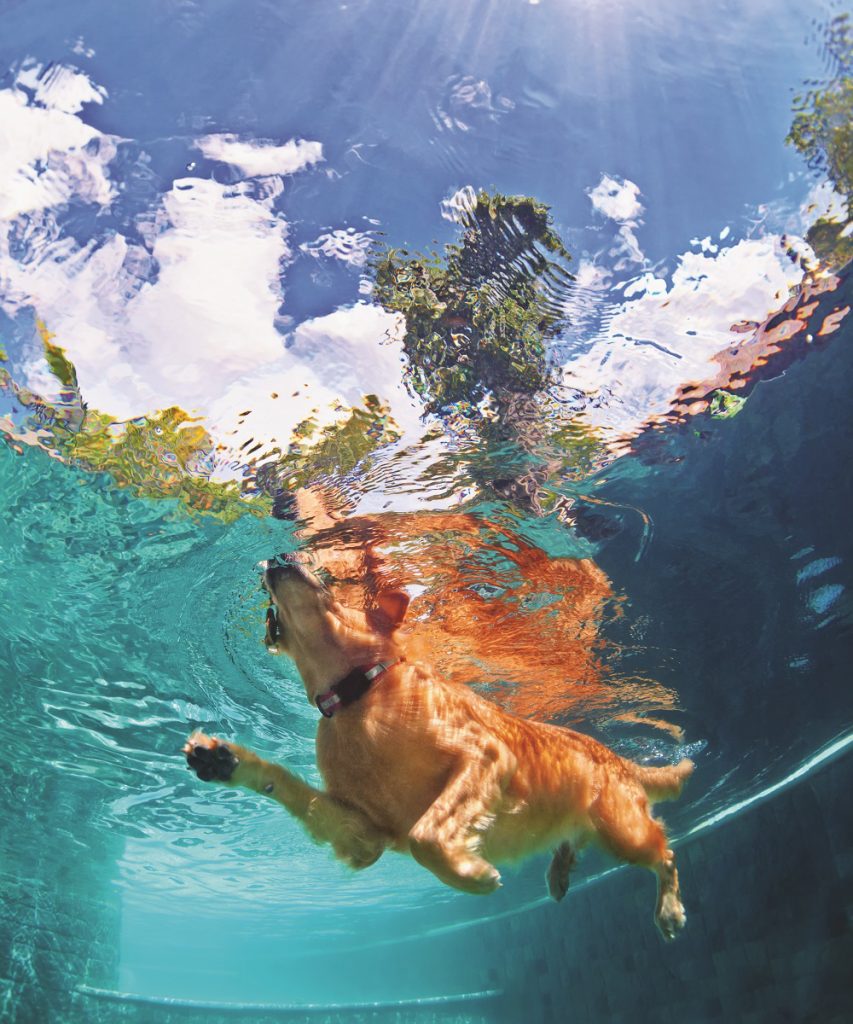 How it works
Hydrotherapy is beneficial for the rehabilitation of weak muscles and painful joints. The hydrostatic pressure of the water provides gentle support and pressure to muscles whilst the buoyancy reduces the weight-bearing load experienced by joints on land. The viscosity of the water creates friction that requires more deliberate action from the limbs. This allows more time for the brain and nervous system to calculate limb movement and placement (proprioception).
Water temperature
The water is heated to ensure patient comfort, the temperature is controlled between 26-32 degrees Celsius. This temperature range has the therapeutic benefit of increasing circulation, which assists in moving fluid around the muscles and joints and this reduces inflammation. This temperature also increases the pet's heart rate, which is helpful for overall fitness levels- however care must be taken for those suffering from cardiovascular disease and compromised respiratory systems. You can rest easy that our hydrotherapists are also fully qualified Registered Veterinary Nurses and will ensure your pet is closely monitored throughout their session.
Underwater treadmill vs swimming
Having access to both a swimming pool and underwater treadmill means that our hydrotherapists can concentrate on the most beneficial forms of exercise for your pet. In most cases, the underwater treadmill will be selected first, as our hydrotherapists have more control over the depth of the water, and level of exercise difficulty. The underwater treadmill is most beneficial for muscle strengthening and gait re-education as it mimics land-based walking.
Whilst the swimming pool is remedial for many conditions, unlike the underwater treadmill, the depth and buoyancy of the water cannot be controlled, and the action of swimming can be too vigorous for healing tissues. This has the potential to exacerbate conditions if used incorrectly. Once safe to do so, swimming can be included in the tailored exercise program, and is a great way of improving flexibility, build core strength and improve cardiovascular fitness.
Massage
Each hydrotherapy session includes a complimentary towel dry and massage. Heat is applied to your pet's sore areas which can assist with alleviating discomfort.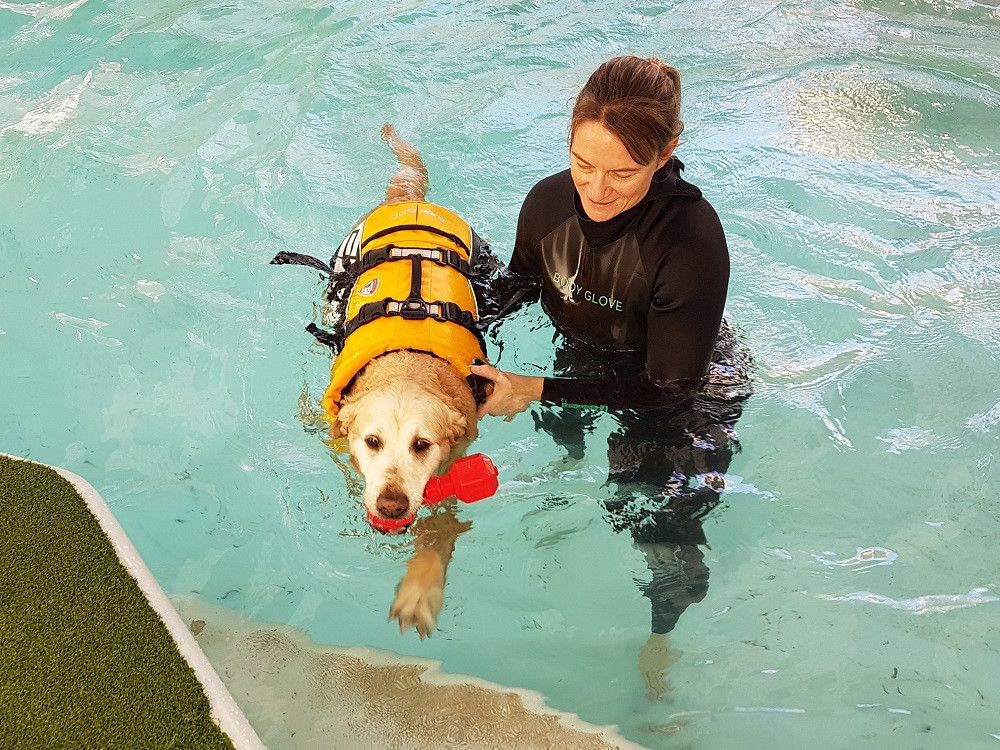 How to book:
A veterinary referral and full patient history is required for all hydrotherapy assessments. Once we receive this we will contact you to make an appointment. You are welcome to book a DIY swim without a referral, however you will be required to sign a waiver as DIY swims are unassisted and we cannot take responsibility for any injuries that might be sustained. To book a DIY swim please phone 9401 0663 during office hours.
Life jackets are recommended for the pool, we have a range of sizes available for hire (for a hire fee).
Please bring your own towels and toys to DIY sessions. If you are attending a hydrotherapy session with a hydrotherapist, towels, treats and toys are included – however if your pooch has anything at home that they love and will motivate them – please bring them along. Favourite foods and toys helps us to build a trusting and supportive bond with your dog.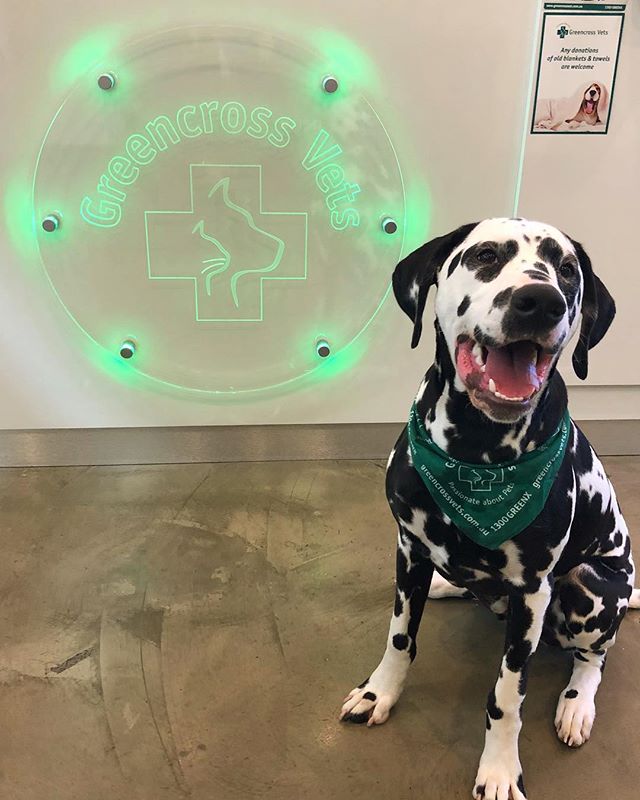 Services and pricing
Please see below for our full list of current services and pricing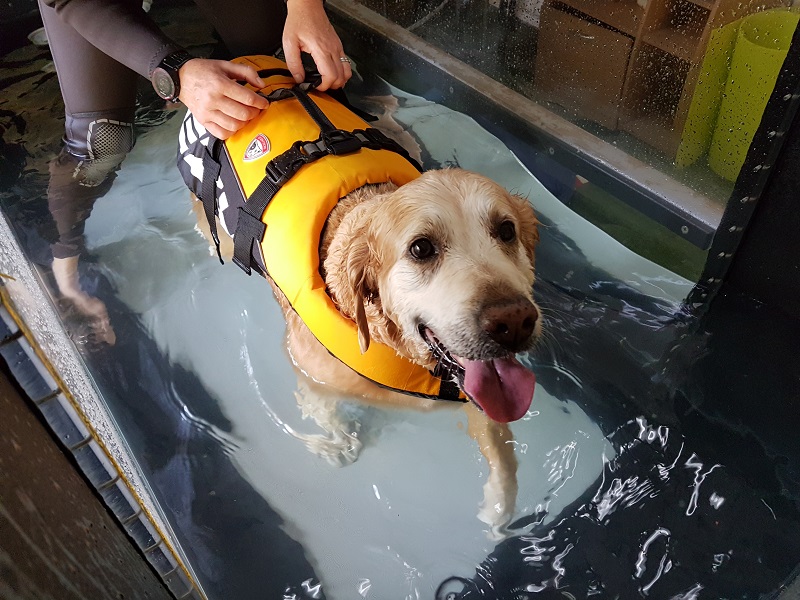 94 Caridean Street, Heathridge WA 6027
Opening Hours / Trading Hours
Monday – Friday 8am – 6pm
Saturday 9am – 3pm
Sunday Closed