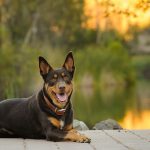 Vet Associate
Ballarat VIC
With a couple of years of experience under your belt, you know what matters in your veterinarian career – a sense of teamwork, support and a chance to take your career to the next level.
This is why, at Greencross Vets, we're focused on your growth. One of the largest veterinary groups in Australia, we pride ourselves on our employee-led development and support program that includes a commitment to a better career/life balance, an industry-leading education program, plus a wide range of career opportunities throughout the 170+ vet-related businesses in our larger family.
What we offer you
Greencross Ballarat is an energetic community of pet-obsessed people just like you! We believe in reward and recognition at every step. When you join our family, you'll enjoy:
● A growth-focused environment where your development is our priority
● A full-time or part-time permanent role – tell us how you like to work
● Five weeks annual leave, including one-week study leave
● CE programs, free AVA and VIN memberships
● Mental health first aid officers at each clinic
● Free and confidential counselling available 24/7 through LifeWorks
● Competitive salary and benefits in line with experience
What you'll bring
● A flexible and adaptable approach, with a commitment to gold standards of care
● Passion for pets (naturally), with excellent animal handling skills
● Registration or eligibility for veterinary registration in Australia
● Exceptional organisational, communication and customer service skills
● Interest in, and commitment to, working in a team environment
What you'll be doing each day
● Delivering personalised, professional and dedicated care to our patients and owners
● Handling and treating all animals
● Regular consults and routine surgery
● Using evidence-based diagnoses, therapies and recommended courses of treatment
● Providing follow-up care and education of our pet owners
● Confidently working as a sole practitioner in the clinic when required
What would it be like to work with us?
Our Greencross Ballarat team has 4 vets and 7 nurses, and we are well equipped with digital x-ray, ultrasound, in-house pathology, dental x-ray, microscope, 2 consulting rooms (with a third to be added during our upcoming renovations along with a new dog ward!), a separate theatre, a treatment room and a nice tearoom for relaxation. What sets our clinic apart is the level of care and compassion that the team provide for our patients. Our team are extremely supportive of each other, and all believe practicing gold standard health care. We are all very empathetic for the patients and their owners. We see a range of clients from different backgrounds, with an overall 50:50 mix of dogs and cats and with the occasional pocket pet. Our vets have an interest in internal medicine and in particular feline medicine. Our Vet Director is a very well-rounded vet who has interest in both medicine and surgery.
Ballarat is a large regional city in western Victoria with the best of both worlds; city facilities with a small-town feel. Ballarat has great schools, universities and medical facilities and easy access to Melbourne and the surf coast. With picturesque surrounds and a vibrant arts and culture community and top-quality restaurants, you will want for nothing.
http://www.visitballarat.com.au/ will give you information on all things happening in Ballarat.
http://www.ballarat.vic.gov.au/ is our local council website, with links to services available
How to Contact Us
To apply or start a conversation, contact Lisa Willis, Talent Acquisition Partner on lisa.willis@gxltd.com.au or 0402 715 425.