How to spend a safe Howl-oween With Your Pet
It's that time of the year – the spookiest night in October – Halloween! Whether you're a costume connoisseur or are going for a trick or treat, getting your pet to join in on the celebrations automatically amplifies the fun but there are a few things to watch out for. We've put together some not-so-scary tips on how to have a purrfectly safe Halloween with your pet.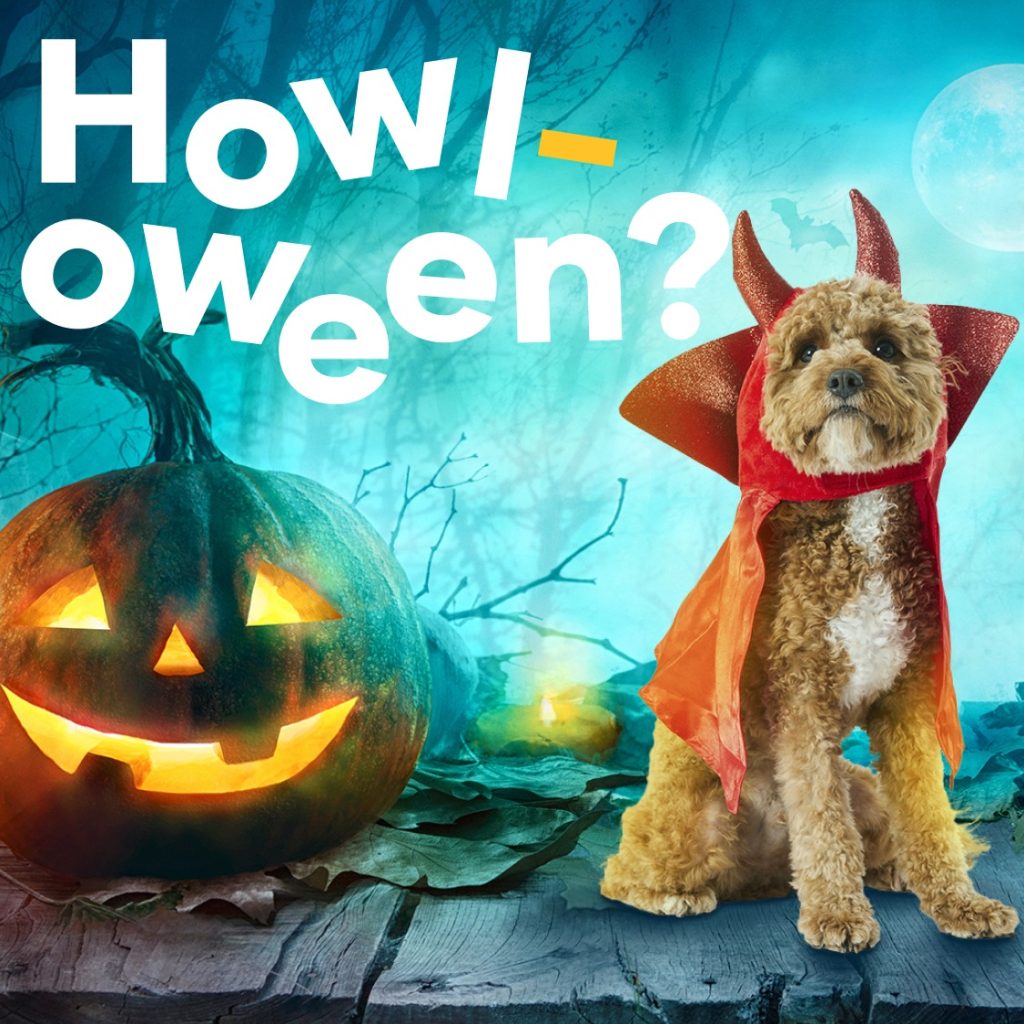 Some treats are not so sweet
Naturally, Halloween means all the sweet treats. Just remember, what's heavenly for humans may be toxic to your pet. Chocolate and macadamias are yummy for us but harmful to pets. Xylitol, an artificial sweetener found in many lollies and candy, is also very dangerous for pets. Keep your Halloween treats all to yourself and well out of reach of your pet! Please make sure you don't give in to those puppy dog eyes! Reward your pets with some delicious pet treats instead.
If you think your pet has accidentally eaten something they shouldn't have, here's what you should do:
– Contact your vet immediately for advice, don't wait. A fast response is crucial. Emergency vets are open 24/7 and here to help.
– Take note of exactly what your pet has eaten, the quantity and approximate time (if known). Bring the packet to the vet with you if you can.
– If you're not sure that's OK just call the vet for advice. WebVet is also available 24/7 and is free for Healthy Pets Plus members.
– The treatment may vary depending on the type of food consumed, the amount eaten and how long ago it happened. Don't delay, even if your pet seems well, it's important to get vet advice.
As always, prevention is the best cure, so make sure you keep your Halloween goodies in a safe place and grab some pet-safe treats for your pet to enjoy!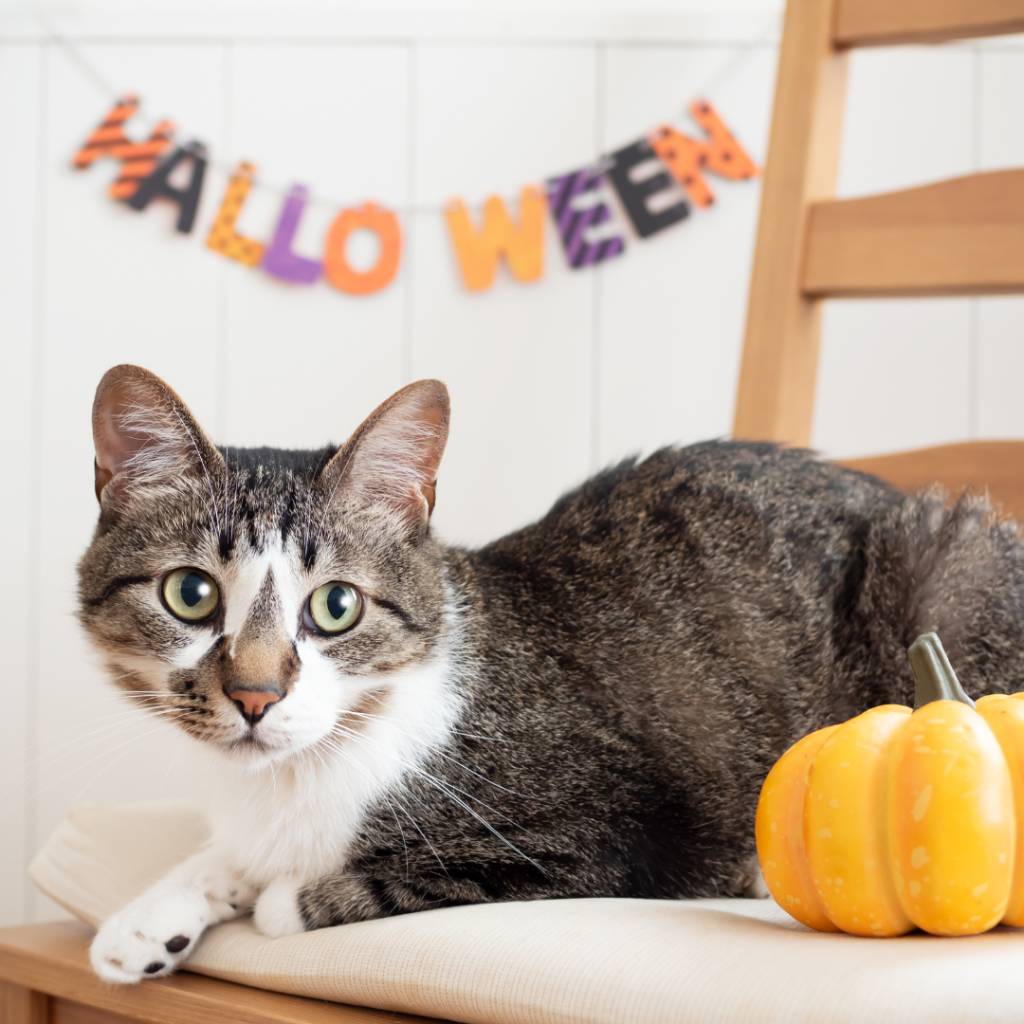 Finding the Purrfect Pet Costume
Do you have the cutest pup-kin in the patch? Have you been waiting for Halloween all year simply so you can dress your pet in that adorable Halloween costume? It's lots of fun to dress up and pets are part of the family! Here are some things to keep in mind when dressing up your pet:
Tip 1: Be Pet Safe. Ensure that you're choosing a pet costume that is safe for your pet to wear without choking hazards such as ribbons or beads that could be accidentally chewed or swallowed.
Tip 2: Get the Right Fit. Make sure your pet is comfortable and relaxed in the costume. Choose the right size so their costume is not too tight, and that your pet can move freely.
Tip 3: Stay Cool. Pets can overheat quickly. Remember, your pet is already wearing a fur coat! Watch out for signs of heat stress and keep your pet cool and hydrated. Be especially mindful if you have a short-faced dog breed (pugs, bulldogs etc…) as they can be more sensitive to the heat.
Tip 4: Always Supervise Your Pet. Don't let your pet wear their costume unattended, it's important to always keep an eye on your furry friend.
Tip 5: Think Outside The Box. If your pet isn't a fan of costumes that's OK. Don't make your pet feel uncomfortable, find another way to have fun with them instead. Bake them a spooky pet-safe treat or focus on your fabulous costume instead.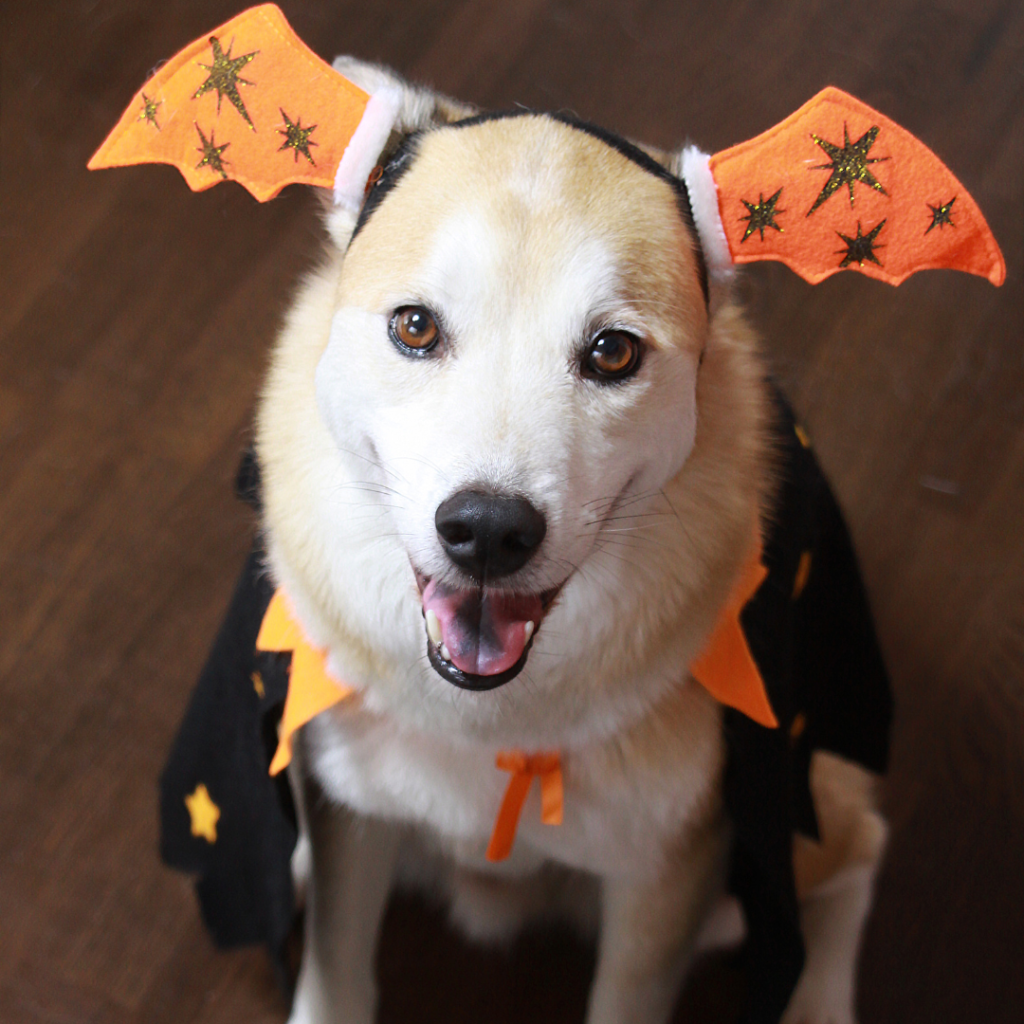 No Tricks, just Treats!
Here are our top tips to consider when taking your doggo trick-or-treating with you.
1. Keep your pet on a leash at all times to ensure they are safe. Don't forget their collar and ID tag too.
2. Depending on the weather, it's a good idea to take water with you for your pet, particularly if you plan to be out trick-or-treating for a long while.
3. Take extra care with senior, overweight or short-faced dogs who may overheat or struggle to walk far.
4. Halloween can be a high energy time! If you have an anxious or fearful pet, be particularly mindful of loud noises or any environments that may be stressful for them. For some pets it may be best to let them relax safely at home with a delicious pet treat to enjoy instead.
5. Take care that your pet doesn't escape, it's common for pets to get lost during the excitement. If your pet is missing please contact your local vet team for advice.
6. As always, please supervise any interactions with children and pets to ensure the safety of all involved.
Last but not least, have fun! Celebrate with your pet and spend time with loved ones, enjoy your howl-o-ween!