Pet Emergency?
Our partner network of emergency vet hospitals are open after hours, including public holidays. 
If your local Greencross Vets clinic is closed, please call your nearest emergency centre.  
A quick response can make all the difference.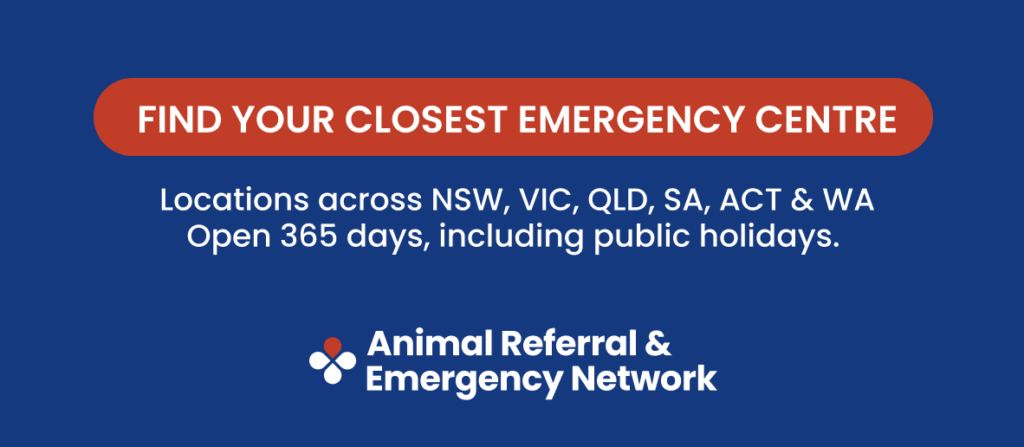 About Animal Referral & Emergency Network

(AREN)
Our Greencross Vets family includes AREN, Australia's largest specialty and emergency network, with over 22 locations across Australia.  
Most AREN locations are open 24/7 or after hours, including all public holidays, so we can be there for your pets around-the-clock. 
AREN locations are well equipped to provide exceptional emergency and specialist care for your pets. The network includes over 1,200 dedicated team members, including over 390 highly qualified veterinarians and 600 nurses.  
Healthy Pets Plus members are eligible for free or discounted emergency consults at select AREN locations. See below for more information.
Count on the Animal Referral & Emergency Network for expert medical attention and tailored care when you need it the most.  
Find your closest location here and save their details in your phone. In a pet emergency, a quick response can make all the difference.  
To learn more about the Animal Referral & Emergency Network, visit emergencyvet.com.au 

Healthy Pets Plus
Healthy Pets Plus members receive free emergency consultations at AREN emergency hospital locations between 6pm – 8am weekdays, plus weekends & public holidays.*
The below exceptions apply:
Free emergency consultations are available 24/7 at Greencross Vet Hospital in Werribee (VIC), ARH Homebush (NSW), and ARH Baulkham Hills (NSW).
At ARH Brisbane, emergency consultations are discounted only, at 20% off.
The Centre for Animal Referral & Emergency (CARE) in Collingwood, VIC, does not offer free or discounted emergency consultations at this stage.
Find your nearest AREN emergency location here and call ahead in case of emergency. 
*Healthy Pets Plus Membership T&Cs also apply. View here.
Greencross WebVet
For non-emergencies, you can also speak with a qualified vet via video call 24/7 with WebVet.*
A Greencross WebVet will assess your pet via video, provide advice on your pet's condition and add notes to their file, ensuring continuity of care.  
Speak to a WebVet now and enjoy peace of mind from the comfort of your home.
FREE for Healthy Pets Plus members! *Terms of Service apply.