Why should I take my cat to the vet?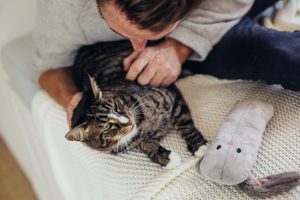 Cats generally don't love traveling in the car, so many cat owners are reluctant to visit their vet. There are several things we can do to make the journey less stressful so that your cat doesn't miss out on the health care they deserve.
Often having a veterinarian perform a physical examination, where they can see, listen to and feel your pet, can help identify problems while they are small. This results in a healthier, more comfortable pet, with less costs for you in the long run!
So, what can be addressed by going to the vet?
• Weight management and nutrition advice: With the increase in indoor cat ownership, we also see an increase in obese pets. Being overweight can be strongly correlated with suffering from diabetes, urinary tract disease, joint disease and heart disease.
Weight loss can often be a consideration too. Weight loss can be an early indicator of thyroid disease, kidney disease, cancer and hormonal diseases such as diabetes.
Having a veterinary professional assess your pet's weight can be really helpful. Often when we see our pets every day, the weight can creep up (or down!) and is hard to notice, amongst the bustle of life. Your vet will be able to help you choose a diet that suits your cat's lifestyle.
• Dental disease: Just like humans, cats suffer from dental disease. They develop plaque & tartar, get tooth abscesses, fracture teeth and develop resorptive lesions (which are similar to human cavities). As you can imagine, this is painful for the cat. Many cats will adjust how or what they eat to manage the pain, and will rarely complain to you about it. Looking inside your cat's mouth is often difficult at home, so having your vet do an oral assessment is often the best way to get the dental attention you cat deserves. Your vet will be able to advise you on the best dental care, diets and treats for your cat.
• Behavioural help: one of the most common reasons cats are left at shelters is inappropriate behaviour. This is often related to urine spraying or urinating in inappropriate places. No one likes cat urine up the wall or on the bed! Your vet can help you determine the cause of these behaviours and discuss treatment options. Often if addressed early, these behaviours can be well managed.
• Vaccinations & Parasite prevention: Vaccinations and parasite prevention are an important part of keeping healthy for our pets. Your vet will be able to discuss with you the vaccination & parasite prevention schedule most appropriate to your pet, taking into consideration your pet's lifestyle (indoor vs outdoor), diet choices (commercial vs home cooked vs raw), age and concurrent health concerns.
• Address any questions you may have: This is a perfect opportunity to ask any questions you may have in relation to your cats health.