Have you ever observed your dog overcome by a mystery scent while you are out on a walk? It is usually sweet and amusing to watch however sometimes this curiosity can lead to catastrophe. This happened to Minnow, a 4-year-old Labrador X who was out for a walk and became bewitched by curiosity and leaped off a small bridge only to land on a structure three stories below the bridge.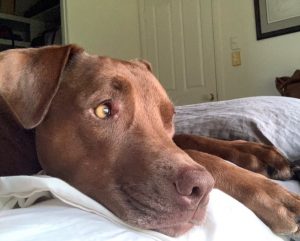 Visually distressed and injured, Minnow's owners rushed her straight into their local Animal Emergency Centre location in Queensland Woolloongabba. Upon arrival Minnow's lip was cut, her teeth fractured, and she had a wound on her back leg.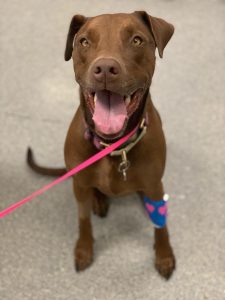 Upon arrival she was examined by the emergency veterinarian and assessed. The vet, Dr Cathy Faye detected a small amount of free fluid in her abdomen, which is abnormal. In less than an hour this fluid increased and was confirmed to be blood. Dr Cathy suspected a life-threatening splenic tear (a ruptured spleen) or possibly trauma to her liver. Minnow was stabilised with pain relief and IV fluids and the emergency care team performed digital X-Rays and found that poor Minnow' s lungs also had suffered a mild trauma.
Minnow underwent emergency surgery to remove the damaged spleen and this helped stop the haemorrhaging. Dr Cathy Faye, an experienced surgeon at AEC, performed the successful surgery and the veterinary nursing team monitored Minnow throughout her slow but successful recovery.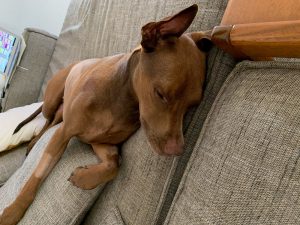 After rest and recovery, Minnow was ready to go home to her loving owners. She is now recovering at home with her owners and has the luxury of getting back to work, supporting her owners therapy clients. Proving that rest, relaxing and dog cuddles are good therapy for both humans and animals.