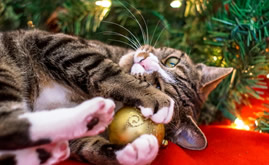 'Tis the season where pets are intrigued by sparkling lights, swinging baubles and ribbon wrapped gifts. 'Tis also the season of unusual decoration-related injuries in household pets.
Here are five simple tips to help keep pets safe this Christmas.
1. Christmas tree safety
If you have a cat who loves to climb, make sure your Christmas tree is safely secured to the ground. Toppling trees are a source of injury (and destruction of your home). Clean up any tree needles that fall from the branches of live trees as they can puncture pets' intestines if consumed. For fake synthetic trees, make sure you stabilise individual branch sections to avoid any accidents.
2. Christmas lights and power cords
Cords should be kept neat, tidy, and out of sight from pets. If your puppy or kitten is teething and chewing, be extra cautious with extension leads as they are soft and highly desirable chew objects.
3. Ornaments
It's a good idea to inspect your ornaments for sharp objects such as pins and exposed hooks. Opt for plastic ornaments over glass ones to reduce the risk of breakages and injury.
4. Tinsel
Cats love to play with string, and tinsel is a highly enticing choice. Tinsel and large lengths of ribbon can play havoc in the intestines once digested. If your cat is particularly interested in string, ribbon, and tinsel, consider decorating your tree with something else.
5. Garden decorations
Garden decorations can prove just as dangerous to pets as tree decorations. Try staking the wireframes of display items into the ground with ordinary tent stakes. This will make them difficult for your pet to pull out.
Avoid exciting their attention. Part of the problem may be your own excitement to show off shiny decorations. Avoid decorating the tree or house when they are present and don't show them the objects, especially not in a playful or excited way. They may interpret this as an invitation to play with them.
Please contact your local Greencross Vets immediately if your pet ingests something they shouldn't this festive season.