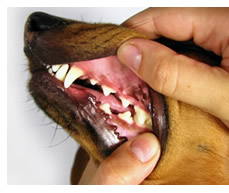 The colour of your pet's gums could tell a lot about your pet's overall health. Colour changes to gums are caused by a range of conditions and factors. Monitoring your pet's gum colour is a great way to check in on your pet's internal health and track any changes.
It is the small blood vessels known as capillaries that provides blood to the visible gums -certain diseases can change the colour of blood hence seen in the gums.
What Should Healthy Gums in Dogs & Cats Look Like?
Healthy gums can be recognised by their colour, touch and refill time.
The easiest way to check up on your pet's gum health is by checking their colour. Healthy gums appear as a salmon pink colour or light bubble gum pink. The gums should be moist, slippery and smooth to touch with your finger. Finally, when pressed, the gums should go from their pink colour to pale pink or white and then return to normal within two seconds of removing your finger. This technique is known as the gum's 'refill time'.
What Colours might I see that I need to see a vet in my dog or cat?
Please contact your vet as a matter urgency should your pets gums not be pink – the examples given are not exhaustive.
Blue gums usually occur due to insufficient oxygen supply in your dog or cats blood – there are many causes all of which are serious. Please contact your vet urgently
White or light pink gums are the result of a lack of blood or poor circulation – sudden blood loss, or shock are some more common causes.
Bright red gums signify that your dog could be overheating or septic. In some cases, red gums could be a symptom of gum inflammation or gingivitis.
Yellow gums signify red blood cell or liver damage.
Brown gums suggest your pet is not able to absorb oxygen most commonly due to paracetamol toxicity
Red spots or bruising suggest your pet may have a clotting disorder or dysfunction of the platelets
If you see any of the above, please contact your nearest vet immediately.
How to Check Your Pet
Gum Colour – gently lift up your pet's lip, what colour do you see? Bright red, pink, very pale pink, greyish white, greyish blue/purple, white or yellow? Remember that salmon pink to pink is representative of good blood flow and healthy gums.
Refill Time – gently lift your pet's lip, using your index finger gently press into the gum for a couple of seconds and release. How long does it take for the colour to return back into the gums where you pressed?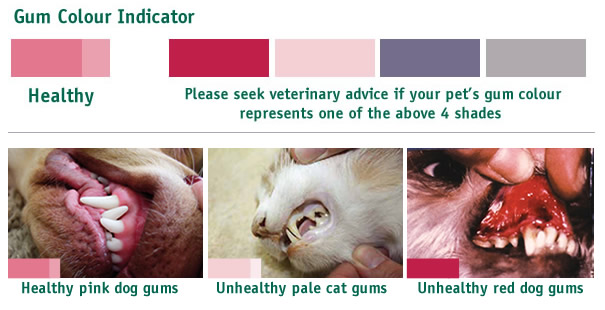 The healthy pink colour should return less than 1-2 seconds of having released your finger. If it takes a longer time for the even colour to reappear, we recommend that you contact your local Greencross Vet.
Next time you're visiting your local Greencross Vets for a health check, why not ask to be shown how to check your pet's gum colour and refill time? We'd be happy to show you!
Gum Refill FAQs
What Are Abnormal Gum Colours
Abnormal gum colours are any colours that are not a salmon or a bubble gum pink. Changes from these colours can often reflect a health issue, some of which can be very serious. Colours of concern can include blue, bright red, white brown and yellow.
What Is Gum Refill
Gum refill refers to the amount of time it takes for your pet's gums to refill in colour once they have been pressed, then released. This time suggests the degree of circulation in the bloodstream.
What Is The Correct Refill Time for Gums
The correct refill time is around 1-2 seconds. This should be all it takes for the gums to return to their normal colour in a healthy pet.
When to Get a Vet Check For Gums
It is important to monitor your pet's gums regularly since they are a great way to check in on pet health. In cases of discolouration or increased refill times, we would recommend contacting your local Greencross Vet as soon as possible.
Get 24/7 WebVet Advice.