Meet Stan, an energetic cavoodle known for enjoying the great outdoors in sunny Noosa. Stan's outdoor adventures were rudely interrupted by a dangerous parasite encounter, but thankfully the team at Animal Emergency Centre Noosa managed to save his life.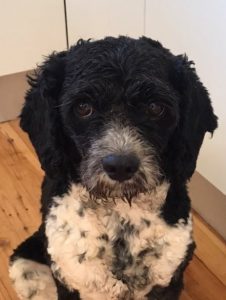 After the usual afternoon playing outdoors, Stan had retired home. He ate his dinner like normal, but then started retching afterwards. Stan's owners had a look over him and found a fully engorged paralysis tick on his hind leg. Then they noticed that poor Stan was starting to get wobbly on his legs too. Stan's owners recognised this as a sign of tick paralysis and they quickly rushed him to the emergency vet team at Animal Emergency Centre.
When Stan arrived at the vet he was unable to walk at all, was quite stressed, and had laboured breathing. His gag reflex was very reduced, this is one of the many tell-tale signs of tick paralysis. The stomach contents that he was trying to expel with his constant retching, may have been going down into his lungs instead of out of his mouth. The team at AEC started to help Stan feel better, he was quickly given medication to stop him feeling nauseous, and sedation so that he didn't stress so much about his laboured breathing.
Stan was admitted to hospital and treated with Tick Antiserum, he was monitored very closely by the veterinary care team and thankfully he received the antiserum without any issues and started his journey to recovery. The next day, little Cavoodle Stan returned to his regular vet, where he stayed in their hospital for the day, however his retching continued, and he couldn't urinate on his own due to the paralysis.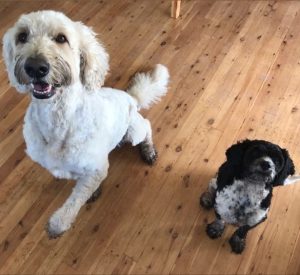 At the end of the day, Stan returned to the care of AEC, and the vet team became concerned that he had developed an aspiration pneumonia from his ineffective gag reflex (saliva and vomitus may have entered his lungs). The vet team performed X-rays of his chest and the x-rays showed that he was also battling pneumonia now. The team acted quickly and added antibiotics to his treatments and kept him as calm as possible under constant care in hospital. Stan grew very fond of one special person in hospital, he always became calmer when his favourite AEC team member, Rose, was on shift. Stan would sometimes get anxious when being handled, but absolutely melted when Rose was nursing him!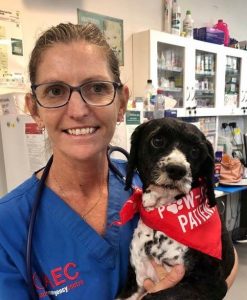 Stan's tick paralysis symptoms, including a reduced gag reflex and muscle fatigue, took several days to overcome but with round-the-clock care, he was able to be discharged home to the care of his lovely family on the fifth day. He has since had a check-up at his GP vet and is continually improving every day. Stan is one of the lucky paralysis tick survivors. Please ensure your pets are on regular paralysis tick prevention and we also recommend doing a daily tick search on your pet, as no product is 100% effective. Chat to your local Greencross Vets to learn more.
About Animal Emergency Centre (Noosa) and Rose
AEC Noosa is the local animal emergency and critical care facility co-located with Petbarn in the Noosa Civic Centre, providing emergency care for pets when they need it most. The hospital is equipped with a range of equipment and facilities to assist pets in critical care with veterinarians available after-hours 365 days a year.
Meet Rose the Nursing Manger at AEC in Noosa her passion for providing safe care for animals is a natural skill;
Where did you study? I initially studied at Brisbane TAFE then Animal Industries Resource Centre and currently studying my Diploma in Animal Emergency Critical Care
 If you were an animal what would you be? A pelican- I can hang out the beach all day with my friends, go for a swim and eat fish and chips!
What do you love about being Vet Nurse? To nurse and care for a patient and to be their "Person" through their recovery until they are healthy, back in the arms of their family and going home. A sneaky little kiss or cuddle is an extra bonus!