We are the leaders when it comes to pet healthcare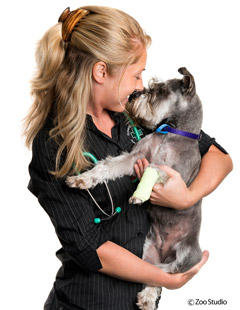 All Greencross Vets practices consist of enthusiastic vets, nurses, and receptionists who share in the goal of providing the best possible care for their patients.
We are part of a national organisation which means we have more to offer your pet – whatever they need, whenever they need it. Our practices are run and managed by a local team of dedicated animal lovers who are there to help at every step and give you reliable answers and the best solutions for your pet's individual needs.
Greencross Vets pride themselves on team selection and internal training programs focusing on continued education. All Greencross Vet clinics follow a strict accreditation program designed to ensure that you and your pet will always receive the highest standard of care and a large range of quality pet health care services.
Click here to locate your nearest Greencross Vets
The Greencross Vets commitment to you
Greencross Vets is committed to providing you with simple to understand yet comprehensive healthcare information. We will always provide a secure and safe environment for your loved one. We approach the care and wellbeing of your pet as if they were our own. We invest ourselves emotionally as well as professionally so you can be assured that your pet is in the best hands.
Greencross services and equipment 
All Greencross Vet practices offer a comprehensive range of professional veterinary services to cater for all your pet care needs utilising the latest diagnostic equipment. Our veterinarians are well-equipped to provide timely and accurate diagnoses and clear communication of treatment options.
Along with regular veterinary exams, we tailor our advice to your pet's specific needs. Besides giving your pet a comprehensive physical examination, we're also interested in behaviours, medical and dietary history, and their environment. We know that all pets are unique individuals, so their health care should reflect this.
Our practices are some of the most advanced in the veterinary industry and are well-equipped to provide the best in medical care and diagnostic testing. All Greencross practices have access to some of the most advanced diagnostic equipment in the industry including ultrasound, endoscopic tests, and respiratory monitors. Your pet is in safe hands with Greencross Vets.
Some of the many services that we offer include vaccination programs, microchipping, surgical procedures, dentistry, radiology (X-ray), acupuncture, stem cell therapy, chemotherapy, wellness programs, weight loss programs, puppy school, behaviour advice, grooming, specialist referrals, nutritional advice, premium pet foods, wildlife care access to 24 hour emergency and critical care, and much more… Click here for more information on our Services
Appointments
We want our time together with you and your pet to be quality. To ensure this, we ask that you always book an appointment. However, in the case of emergencies, we do encourage you to go straight to your local Greencross Vet for immediate care.
You can book your pet's appointment over the phone or online using our fully integrated and automatic real-time scheduling service. Booking your pet's healthcare services has never been easier.
Click here to book your pets appointment online today.
Greencross fees and accounts
Costs are estimated and given to you prior to the commencement of any treatment. Accounts are itemised and are payable at the time of examination or on discharge of a patient. Greencross Vets offer a 5% discount to "aged pensioners" on professional services.  The Aged Pensioner Concession Card must be presented at the time of visit to receive the offer.
All practices accept cash, credit card, EFTPOS and AMEX payment.