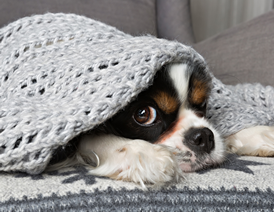 Whether it's the loud bangs of New Year's Eve fireworks, or the sound of guests celebrating the festive season, not all pets are happy getting into the spirit of things and can get scared. Here are our five tips for noise-phobic pets.
1. Stay indoors
Make sure you walk your dog during the daytime, and then stay in together in the evening, ensuring all doors and windows are closed to block out any excess noise.
2. Keep calm
Your pet will react to your behaviour, so remember to remain relaxed, speaking in a gentle tone.
3. Create a den
Make sure your pet has a safe, comfy environment to retreat to should the noise get too much for them. You can make it comfy with blankets and some of their favourite toys and play some gentle, low-volume music to ease anxiety.
4. Don't fuss
If your pet decides they want to hide under the bed all evening, that's fine. Don't react to their behaviour, unless they are at risk of hurting themselves.
5. Sprays
Some owners opt for sprays to aid calmness and relieve stress for their pet. These are designed to be sprayed on your cat or dog's bedding or clothing (not directly on your pet).
If you're concerned about your pet's behaviour, speak with your local Greencross Vets.