Travelling and your pet
As a pet owner, there is a lot to consider when planning a holiday. Should you leave your pet at a boarding facility, arrange a pet sitter, or even bring them along with you?
Whichever option you decide, ensure your pet is up to date with the following:
vaccinations
heartworm prevention
flea and tick prevention
intestinal worming
microchip details
Travelling with your pet can be an exciting adventure. Our team share our top tips to consider before you take a trip with your four-legged friend.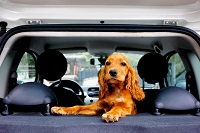 Holidays with Pets
When planning your holiday, learn about your destination and accommodation. Check that your accommodation includes secure fencing and search for access to dog-friendly spots such as beaches, parks and walking tracks. Don't forget to read local council regulations and make sure you have the contact details of your closest Greencross Vets and after hours emergency centre. Give the local Petbarn or Greencross Vet a call to learn more about parasite control required for the area (especially if there are paralysis ticks) and learn about local hazards such as poisonous snakes or sea life in the region.
Update your details
Check that your pet's microchip details are up to date and that you have a pet ID tag with your contact details. Don't forget to include your mobile phone numbers and emails in case your pet wanders off during your travels.
Travelling with Pets in the Car
Get Them Familiar with Car Travel
Get your pet ready for car travel well in advance.
If your pet is a bit anxious, they may also become nauseous in the car. At Greencross Vet, we recommend starting with very short trips and praising them when they show calm, relaxed behaviour.
As they improve, progress to longer trips. If you have a pet who dislikes car trips, you can get them used to the car environment by feeding them treats or their meals in the car while it is parked – make it fun and slowly but surely build them up to the travel experience. Praise them when they show calm, relaxed behaviour.
Here are some additional tips for all pets:
Only offer a very small meal a few hours prior to travel.
Plan regular, short breaks for your pet to get out of the car
Ensure they have fresh water
Ensure there is plenty of fresh air (open the windows or an air vent)
Remember that pets have sensitive hearing so limit loud music while travelling
The friendly team at your local Greencross Vets are here to help, so give them a call for individual advice. There is a dog appeasing pheromone product called Adaptil that works for mild anxiety, or medications for more severe anxiety which are generally available at your vet after a consultation.
For pets who get motion sickness, there are effective anti-nausea medications are available. Contact your vet for more information.
Travel Safety
It's important to ensure your safety and your pet's safety while on the road. Unrestrained pets are distracting to the driver and are a potentially dangerous projectile if the car suddenly swerves, stops, or is involved in an accident. Cats or small dogs should be placed in a secure carrier and/or seat belt harnesses used for medium or large breed dogs. Place animals on the back seat or cargo area if you have a wagon, never the front passenger's seat due to airbags. Pets shouldn't be allowed to stick their head out of the window due to the risk of injury, especially to their eyes. Remember, many states have introduced hefty fines for pets who are not secured safely in the car.
Crate Training for Pet Travel
If your pet is not familiar with using a crate, it is important to make sure they feel comfortable and safe in their carrier. By taking the time to crate train your pet, you are both likely to have a more relaxed and convenient travel experience together.
Introduce your pet to the crate at home so they can gain more confidence and can explore it.
Putting a familiar blanket or pillow inside can let them feel more comfortable and gives the crate scents they recognise.
Once they are comfortable around the crate, we recommend closing the latch. This lets your pet grow familiar with the inside of the crate.
Offering treats or meals inside the crate, while still at home helps your pet build a positive associate with the crate.
If you choose to use a harness and seatbelt, ensure the harness is well fitted. Having the harness slip off in the event of a sudden stop puts you and your pet at risk of injury.
Ensure your pet has the space needed to sit down comfortably in the car, without wandering over the backseat. If your dog is in the cargo bay, please ensure there is a luggage separator as to prevent them entering the cabin in times of a sudden stop
Make the New Environment Feel Like Home
Travel anxiety is not uncommon in pets and people alike. It is important to help ease your pet's stress being in a new space, surrounded by new smells and sounds.
We recommend making this new environment feel like home. By bringing blankets, a bed and toys, you can surround your pet with their favourite familiar items to feel more comforted. These items can help make your pet feel more relaxed and at ease, so you can too.
Leaving Your Pet at a Boarding Facility
There are some excellent boarding facilities that promise to look after your pet when you go away. Do your research, read testimonials, and visit the facility before making your choice. When deciding which boarding facility is right for your pet, we would recommend confirming their certification, insurance and vet proximity.
Whether your pet is used to plenty of space and loves socialising with others or is shy and anxious, it is important to find a boarding facility that will meet these needs as well as your pet's diet and routine.
To guarantee you can access the right boarding facility for your pet, always make sure your pet is up to date with vaccinations and parasite prevention. Most boarding facilities will require evidence of this.
Getting a Pet Sitter
Pet sitting is a great option for your pet to feel comfortable at home while you're away. Cats are especially happier in their own space, so a stay-at-home sitter is perfect for them. There are so many pet sitting services available, it can be hard to choose. Many services offer profiles of their sitters with testimonials and references. Sometimes, you can arrange a meet and greet with a potential sitter. Do your research and choose a reputable company.
We hope you enjoy travelling with your pet and arrive safely! These tips will have you feeling cool, calm and collected. Enjoy the journey!
Get 24/7 WebVet Advice.