Urine analysis test and your feline friend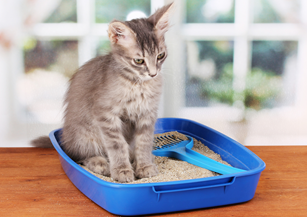 A simple urine test can tell us so much about your cat's health status.
Analysis of your pet's urine allows screening for conditions like diabetes, urinary tract infections, and kidney disease. A urine test can also assist with the early detection of abnormalities and help to monitor any pre-existing health conditions.
An appointment for a urine test is not always necessary. Please phone us directly to confirm. In many instances, a sample of your pet's urine can be dropped into the clinic. Once the urine has been tested, a team member will phone you to discuss the analysis. For assistance collecting a sample from your pet, contact us.
Collecting a urine sample from your cat
remove cat litter from the litter tray
leave a few pieces for your cat to scratch around with
once your cat urinates in the tray, pour a small amount of the urine into a clean container
avoid cat litter falling into the container
If your cat is an outside cat, it can be more difficult to collect a sample. We recommend bringing your cat into the practice with a full bladder and then a veterinary nurse can usually express the bladder and collect the sample at the time of your consultation.
If you are concerned about abnormal symptoms in your pet cat, contact your local Greencross Vets today.
Annual health screenings included